Monday 9:00am ~ 5:00pm
Tuesday 9:00am ~ 5:00pm
Wednesday CLOSED
Thursday 9:00am ~ 5:00pm
Friday 9:00am ~ 5:00pm
Saturday 9:00am ~ 1:00pm
Sunday CLOSED


Drag and drop your image here.
Are you looking for an expert
in clothing alterations in
Cullercoats, North Shields?
If you are then give Gloria's a call
today for a professional service that
will leave you completely satisfied
with the work we produce.




We are an enthusiastic business which has built
up a fantastic reputation over the short time
that we have been trading.
With more than 40 years of clothing and
alterations experience.

Our prices are extremely competitive and a lot of
our work currently comes from the
recommendations of satisfied customers.
Based in Cullercoats, North Shields, on
Farringdon Road, we welcome all customers
and we can even offer a Same Day Service.

All work is conducted with the ultimate level of care and attention to detail so you can be sure that the standard
of our work is always top quality.

So if it's a new hem, a ripped seam, a broken zip or a
general alteration, Gloria's here to help!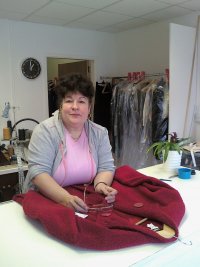 We will be closed on bank holidays and during
annual holidays
Join my Fabebook group and receive 10% off your next alteration or repair
Just click on the link below

17 Farringdon Road
Marden Estate
North Shields
Tyne and Wear
NE30 3ER


Drag and drop your image here.
Because we believe in quality and value, we charge per job for
the work carried out, which means, you the customer, receives the
best possible cost, with the highest of standards. To get an estimate
of how much your work will cost please call 0191 289 53 69, or for a
more accurate price please call into our shop with your items.

Same or next day Service is available at an extra cost

Honest Prices, Honest Work
What Our Customers Say...
We hope this website has been helpful, however, if there is anything else we can help you with, please do not hesitate to call.

"I will be recommending you to all my friends "

"Simply the best in the business, the cheapest too"

" I just couldn't believe the quality of work for the cost, Gloria's altered my Wedding dress, 4 Bridesmaid dresses and 2 Flower Girl dresses, all the work was carried out with a very personal touch, Thank You"

"I've tried the rest, now I use the best, Gloria has
a great attention to detail, Thank You x"

"For the price of the work I wasn't really expecting
much, but I was wrong. The quality of the work
was second to none, Amazing!!!"